Frequently Asked Questions About Black Magic, Black Magic Curses, and Black Magic Spells.
A few of the more common questions about Black Magic, answered by Black Witch Raven, in her own words..
Is Black Magic Real?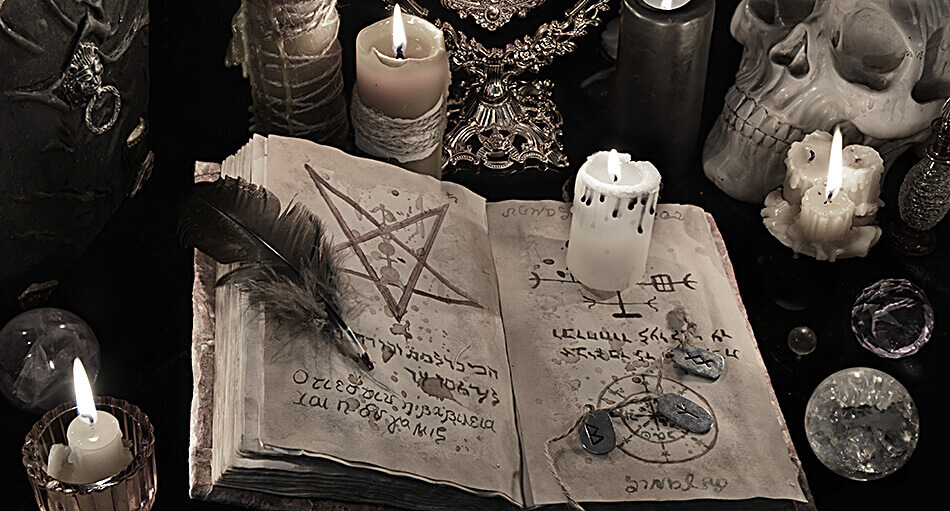 Yes, very much so - though what I call black magic and what you call black magic might be very different things. You can read more about it here.
How long have you been a Black Witch?
A very long time.
What spells do you offer?
I have all manner of spells, but my most popular spells are love spells, relationship reset spells, weight loss spells, wealth spells, and of course... curses.
Isn't cursing someone via Black Magic wrong/evil?
Are you kidding me? We live in a broken, imperfect world. Bad things happen to good people, and assholes sometimes go unpunished. Sometimes it's incredibly difficult for us to find closure when you know that someone has caused you suffering without consequence.
That's why curses exist. They allow us to obtain justice when it is needed. For this reason I won't cast a curse out of spite or to provide a client with some kind of a competitive advantage - but if you have suffered a genuine injustice, or you're still haunted by a painful episode in your (recent) past, I can bring resolution, and I can help you draw a line under the incident, and move on.
Click or tap here to make your payment, and have me cast your revenge curse.
Can you kill someone with Black Magic?
It is more common for victims of a curse to experience accidents. Sometimes these accidents are minor, sometimes they are much more serious. Sometimes they do indeed result in death or permanent injury.
Say I want someone to lose their job, their girlfriend, or wake up with tiny genitals... is that possible?
Clients sometimes come to me with a list of things that they would like to happen to their enemies, but this is not how Black Magic works. What I do is unleash dark energies into the victim's life and let them create chaos and destruction. A very unpleasant fate awaits anyone who is under a Black Magic curse.
What if someone has cursed me? Can it be lifted?
Lifting curses is especially difficult, but I have had a lot of success in this area.
The important thing to remember is that once a curse has been lifted, a period of healing is required - and it usually takes a while for things to return to 'normal' - but those clients I've worked with have told me that their usually life starts to get better again, quite quickly.
How long does a spell take to work?
Spells are based on people, and situations - and as no person, or situation, is ever the same, no spell ever works in exactly the same way. However, I can say this - if you're able to follow simple instructions, and can dedicate five minutes a day to perform a simple ritual, then the spell will work a lot quicker.
Do you need an item of clothing or hair to buy a spell?
What? No! All I usually need is a name, and perhaps a location. A photograph is also helpful, but not always necessary.
How much do your Black Magic Spells cost?
I charge a fair price for my time and the items I need to complete a Black Magic casting. My fee is currently $199 payable via credit card and/or paypal.
I don't take any other kind of payment at this stage.
Can you tell me more about you?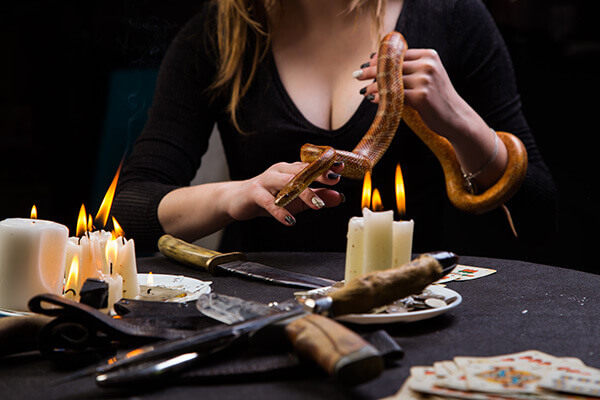 My name is Raven. You can find out more about me on this page.
Can you tell me more about Black Magic?
You can find out more about Black Magic here.
Is there anything you/Black Magic can't do?
There are plenty of things I am unable to do. Please check this list before contacting me.
I cannot change anyones sexual preference. If you are gay and are in love with your straight friend, I cannot help.
I cannot bring anyone back from the dead.
I cannot spring anyone from prison, reduce a prison sentence, change the mind of a jury, or make a charge or conviction go away.
I cannot transform you into an animal, change your sex, change your age, alter the past, give you super human powers, or manufacture a magical pendant.
I cannot make you president of the United States. I did that recently and in retrospect it was huge mistake. (I'm joking, obviously)
I cannot tell the future, tell you what someone is thinking, give you the address of your wife's lover, or tell you how Donald Trump came to power, or whether he has a magical pendant.
I cannot alter the laws of physics or do anything that is generally considered 'impossible'.
I cannot make you win the lotto.
I also do not teach black magic, take on students, offer interviews, do telephone or 1-2-1 consultations, sell books, potions or lucky trinkets.
I can help you change your life for the better. And I would be very happy to help you do that.
Click of tap here to make your payment, become a client, and start improving your life today with Black Magic.
Is Black Magic dangerous (to me)?
When dealing with dark spirits - such as when casting a curse - there is always risk. Dark energies do not ask permission before entering someone's life, so part of the casting involves me setting up a protection spell around myself, and the requester. However, a protective spell can only do so much, and therefore it is very important that once a client has commissioned me to curse someone, they follow my (very simple, but important) instructions to avoid attracting those same dark energies back into their own lives.
Once you cast a curse for me, is there anything I need to do?
Yes. There are three main steps.
Hand the task over to me
Protect yourself from the dark energies by following my instructions
Move on with your life
What about normal spells? Do I need to do anything once the spell is cast?
Most spells involve a simple, daily ritual, for a period of time after the spell is cast. The ritual normally takes no more than five minutes a day. But it's YOU who has to do the ritual - not me. If you're the sort of person who can't find five minutes at the start of each day (here's an idea; get out of bed five minutes earlier) then I might not be the witch for you.
Remember: Paying me to buy a spell for you does not relieve you of responsibility for your life. The goddess helps those who are willing to help themselves.
What's the difference between Voodoo and Black Magic?
There's very little different between Voodoo and Black Magic, BUT if you specifically want a Voodoo spell, then I can recommend High Priest Jean Emmanuel @ Extreme Voodoo Spells, who I trained under, a few years back.
He's a very kind man, very patient, although be aware that he does not suffer fools gladly! If you're a dick, he'll tell you so (albeit, in a caring way). He also lives in a village where the internet is a little sketchy, and where he borrows his neighbor's computer, so, you know, maybe cut him a little slack before chasing him.
I want to win the lotto, can you do that?
NO! Didn't I mention that already? Scroll up the page to see the list of things I can't do.
Magick, like life in general, requires us to be proactive. To put some effort in. Sure, I can help you become more wealthy - attract some more money into your life - but once the spell is cast YOU need to be on the look out for amazing opportunities, and then follow up on those opportunities.
Buying a lotto ticket isn't an opportunity. It is a hollow and dull experience, one that robs us of our willingness to make our lives, and the lives of the people we love, better. As soon as you buy a lotto ticket with the intention that a big win would solve your problems, you have lost control! It's a tax on stupid people.
If you are considering asking me to help you win the lottery, leave this website. I cannot help you.
Have you got references? Can I speak to some of your past clients?
I don't divulge private client information or contact details.
Can I come to your house? Can I call you on Skype / telephone?
No! I do not offer one-to-ones or telephone / skype consultations. There just aren't enough hours in the day and I do have a life outside of work.
I work by email only, once the initial fee has been paid, via this website.
Can I pay via Western Union Money Transfer, Check, or after you've cast my spell and made me a millionaire?
I do not work for free. And I do not offer credit. I accept card payment, via paypal.
My fee of $199 is extremely reasonable. If you cannot afford this now, put aside a small amount of money each week until you can.
How can I order a spell or a curse from you?
Easy! Tap here, give me as much detail as possible about the spell you would like me to cast, make your payment via PayPal, then I will respond within a day or so, and cast your spell within two weeks.